OVER the decades, the aviation sub-sector in Nigeria has suffered because of its inability to establish a maintainance Repair and Overhaul facility, a crucial infrastructure that ensures that the airline aspect of the business maintains a balance in its cost-intensity. With the emergence of new MROs in the country it is logical to look at areas of synergy to grow the budding market, ANTHONY OMOH writes
Due to the critical nature of this aviation infrastructure, undergoing a C-Check is by far the highest operating bulk cost an airline has to deal with, apart from Jet -A1 ( Aviation Fuel) that is a daily running cost for airlines in Nigeria, gulping over 40% of operating cost.
Minister of Aviation, Hadi Sirika revealed that Nigeria experiences huge capital flights to C-Checks annually to the tune of US$90 million dollars as nothing less than $1.8- $3million dollars is spent to ferry Boeing aircraft out of the country for major checks.
However, succor it seems have come for airlines as since 2016 no fewer than three MRO Organisations have been licensed by the Nigeria activity Aviation Authority ( NCAA): Onedot Aviation, Aero Hangar and the recently licensed 7 Star global with government also planning an MRO facility along with its proposed new national carrier, all the cards seem to be falling in place as some of the facilities have even commenced operations.
Licensed in June 2016, Onedot Aviation was approved to carry out checks both line and heavy maintenance, for Beech-Craft, HS-125, Bombardier among others since 2014 and Boeing 737-200 Series and Boeing 737-300/400/500 series and has already successfully carried out a B-Check on a Fly Air Stream's Boeing 737-200 cargo aircraft which is currently flying.
Aero Contractors in 2017 followed suit after it rolled out its 737-500 aircraft after a C-Check from its hangar just months it was granted approval to carry out third-party maintenance, the airline is currently planning to roll out its 737-400 aircraft soon, showing that he country indeed has the personnel to carry out the maintenance of its aircraft.
And the CAA has also licensed a third MRO facility, 7 Star Global, which is set to start operations soon and with the massive investment of Boeing classics in the country and the three hangars, the country will be saving a lot in capital flight.
However, there is also a massive investment in the South-South region of Nigeria where the Akwa Ibom MRO is situated and with the way the market is moving, experts and players are also yearning for that facility to come on stream to also build capacity and help the nation.
The about $100 million Akwa Ibom hangar started long before the others but about $100 million later it is still an empty hangar which would have been a thriving MRO with support from government and stakeholders since its completion in 2012.
Benefits:
Apart from saving the country at large capital flight thereby strengthening the local currency, it is also believed that siting a functional MRO will reduce ground time experienced by airlines when they take their equipment overseas for maintenance.
With the fact that there are no MROs in West Africa, the country can also take advantage of the fact to draw its West African neighbors in and boost its own economy further and provide competition for foreign providers leading to more competitive pricing.
It will also provide substantial contribution to the local economy.
Onedot Aviation's Chief Executive Officer (CEO), Captain Henry Oludotun Ogunyemi who spoke on advantages of an MRO told nigerianflightdeck.com in 2016 during the forex crisis that having a local MRO would reduce the forex frenzy as they will have to charge in naira and reduce the capital flight.
"Present situation in Nigeria has witnessed a lot of Nigerian airlines complaining about the foreign exchange rate to carry out major expenses, one of which is aircraft maintenance. Onedot can also reduce the frenzy for forex as it will charge the airlines in Naira. First, putting all the airlines' maintenance together, Nigeria will be saving $3bn annually if we patronize our own local MROs. There will be reduced stress on the dollar currency and this cuts across all the airlines. It is cheaper for the airlines to carry out their maintenance in the country. First and foremost, the ferry cost is saved as it takes time to ferry an aircraft to and from wherever it is done overseas."
On time efficiency for the aircraft, he said no airline wants their aircraft on ground for long.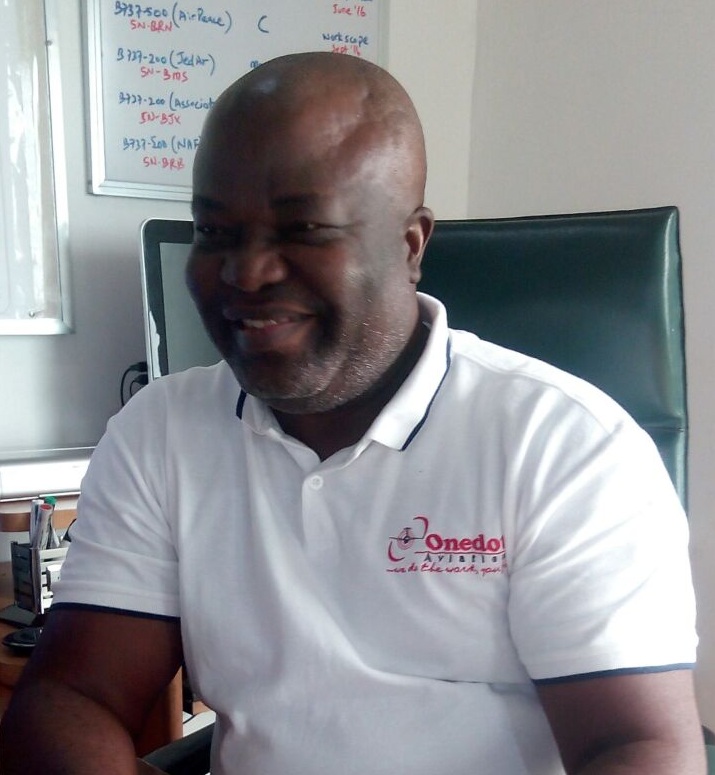 "Even the ground-time is saved as sometimes some aircraft stay six months and others stay a year so the airline will save in ground time. Saving money and ground time increases the profit of the airline. So all airlines are free to check our services out."
"With increase of profit, there can also be an increase in fleet which means increment of staff, pilots and cabin crew employing more Nigerians, creating more jobs. In fact, the ripple effect is so numerous and cannot be underscored."
"Assuming they are not expanding or recruiting, they will be able to pay their staff and not owe, eliminating unnecessary hardships."
He also said using local MROs can enable the MRO increase its capacity and train and employ more Nigerians as well.
"We have experienced base engineers in Nigeria already that can take over from the expatriates who are already on ground with the initial know-how and technology. With the MRO there will be jobs for the teeming engineers that we have now. There will be job opportunities and there will be training and retraining of engineers to keep a base of sound technical hands who hitherto flew overseas."
Captain Ado Sanusi of Aero Contractors described the MRO after the completion of its first C-Check as," This feat is a game changer in the aviation industry for the entire country and it means that we can maintain our airplanes. We don't have to take them out of the country. It will save us foreign exchange, turnaround time for maintenance and we can also do it according to international standards"
Former National Association of Aircraft Pilots and Engineers (NAAPE) President and Chief Executive Officer of 7 Star Global Hangar, Engr. Isaac Balami, said additionally that foreign airlines local currency accounts will encourage local MROs
He also added that, a single B737 aircraft, grounded awaiting maintenance, has a negative impact of hundred thousand dollars plus, per day, to the owner/operator airline explaining that it will create additional significant costs savings models including navigational charges a crew salaries and expenses to local airlines in comparison with recently the identical services performed in another country.
Pooling resources:
Some feel these new MROs can complement each other and pool resources to also create a melting point for maintenance in the country stating that this will help all of them build capacity however, Nick Fadugba, Chief Executive of African Aviation Services Ltd propounded another theory too, encouraging airline operators in the country pool resources to equip and use the Akwa Ibom hangar to maintain their aircraft to also save them millions instead of allowing the massive facility lie fallow.
According to him, the facility in Akwa Ibom is not a waste but an opportunity if well harnessed will solve to a large extent the MRO dilemma in the country.
"I was filled with optimism when Akwa Ibom started the hangar, but it has been lying there for many years. And that is about $100 million invested in an empty hangar. Why haven't Nigerian airlines come together? There is a hangar right there, why don't they come together and get that hangar up and running? I am very sure Akwa Ibom State government will welcome Nigerian airlines saying, 'right, let's make this a Boeing 737 facility or whatever.' It is an opportunity," he said.
He said that the facility is a source of job creation and with a good business plan and collaboration with both local and international investors, the facility could be revitalised.
"The government needs to get someone or company to put a business plan together because they have a facility. So, they need the right business plan, the right management and investment to make it work. I believe that facility can be profitable and viable. At the moment it is a white elephant. There is no need for that when we are lacking MRO facility in Nigeria; it is a golden opportunity. When I look at Akwa Ibom, it is a tremendous source of jobs for the state and the youths. I really urge the state government to pursue that project and make it viable" said Fadugba.
He also stated that geographical location of the facility or airport is not a problem saying "it is a couple of hour's flight."
"Nigerian airlines are ferrying their aircraft to Europe for maintenance. Why can't they ferry it to Akwa Ibom, what is the difference. If you have a facility there that can produce the job, I know the cost of labour will be much cheaper than in Europe. I believe that project is far-sighted, but the strategy did not succeed because there was no continuation, there was no follow-up. But now that it is lying idle and fallow, it can be revitalized, it can be made to work with the right business strategy and the right global contact in the MRO world.
Ease of doing business:
However, despite all, a school of thought also feels that the authorities should also not frustrate businesses before they are given licenses to provide such critical infrastructure and services to the aviation sub-sector.
Capt. Jari Williams one time manager of the Ibom Airport and now Chief Executive Officer, Bi-Courtney aviation Services Limited (BASL) has blamed government and stakeholders of a lack of commitment as the major reason behind the inability to establish a functioning Maintenance Repair and Overhaul (MRO) facility in Nigeria
According to him, government should start from the known to the unknown and not vice versa.
He urged, "Akwa Ibom has a hangar already so all that needs to be done is to support it somehow. It isn't about feasibility studies it's about the fact that someone whether private or government has put the hangar in place but instead of support one Minister goes and another one comes and there is a change in policy and nothing happens, he said while responding to a reaction.
"Investing in an MRO is known to be extremely capital-intensive, requires significant collaboration with other industry stakeholders, and the rate of return on investment (ROI) is rather slow. Thus, to attract willing investors, the government of the day has a key role to play especially by providing juicy incentives and business-friendly policies."
"With regret, we look back at the failure of past governments in providing the required leadership to undertake this sort of project. Similarly, they failed to put in place necessary policies and legislative framework for such a project to rest on."
"On the few occasions, when either state governments and/or private investors made attempts to commence an MRO, the constant bottlenecks always frustrated the implementation of such plans."
On financing:
On financing MROs, Chief Executive Officer, African Aviation Services Limited, Mr. Nick Fadugba at the just concluded 22nd Seminar Organised by the League of Airports and Aviation Correspondents ( LAAC) identified key factors that would help finance the capital-intensive venture.
He said a sound business plan and competent management, access to low-interest rate funding; access to cheaper land from the airport authority, investments in modern hangar, tooling and manpower as well as partnerships with established international MROs – airframes, engines, components is key.
According to Fadugba, there are no major MRO facilities in West Africa today and Nigeria's national hangar project is still on the drawing board after years and years of discussions, plus Arik Air and Lufthansa Technik did not have an MRO partnership while Aero, according to him, has in-house MRO capabilities which could be expanded -but does it have the necessary funds vis-à-vis its core business?, he queried.
He went further to state that the Akwa Ibom MRO Project – needs aircraft customers and technical and engineer skill of former Nigeria Airways staff now depleted through age, but insisted that West Africa – and Nigeria in particular – remain a potentially big MRO market.
In all, the current trajectory Nigeria is moving; an alliance among all these facilities, pooling resources and creating capacity for the fallow MRO in Akwa Ibom will help create MRO clusters around the nation and make it a maintenance hub in West Africa.