Victim defiled by Okija 'Juju man', swears oath to repay N3.5 trafficking cost
Immigration hands over victim, suspect; charges NAPTIP to make sure case is prosecuted
ZONE A Command of the Nigeria Immigration Service (NIS) have intercepted a 34 year old suspected human trafficker, one Chidiebere Okoro who was trying to migrate  with an 18 year old, Helen Ochigbo under deception and fetish coercion to embark on prostitution in Dubai,  the United Arab Emirates (UAE).
Okoro was apprehended at Gbaji  Border Patrol Base on his way with the victim to Seme, where he planned to fly her  through Benin Republic under the deception that she was going to work as a maid.
NigerianFLIGHTDECK investigations  showed that the situation was far more sinister than just trafficking as the young lady was dehumanized, defiled, taken to a shrine at Okija to swear an oath to pay an end receiver three million, five hundred thousand (N3,500, 000.00) Naira as cost of trafficking her to Dubai for prostitution.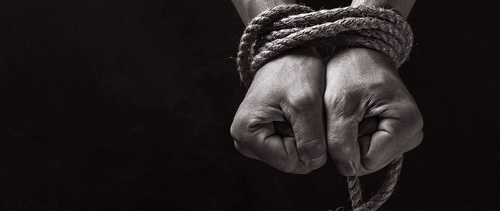 The Benue-born victim who resides in Niger State it was learnt, was handed over to a group in Benin City headed by one Madam Kenny  who took her photograph and sent to the receivers, a couple in Dubai, Mr. & Mrs.  Jonathan Uwazurike who in turn sent transportation for Helen to go to Onitsha to meet Mr. Okoro to take her to administer the oath.
It was  during that time that she was taken to the shrine where the oath was administered to her before she was transported to procure fake documents in Calabar, Cross River State where she stayed three weeks, after that she was taken to Lagos via night bus from Onitsha and transported to Seme from Mile 2 via the waterways before they transported to Gbaji where they were intercepted.
Helen in her statement explained how she was defiled by the native doctor and her pubic hair shaved with her being made to wash her hands and face with the water as well as spray the water on a coffin and asked to repeat certain incarnations.

"He asked me to repeat everything he says as follows: Anytime I call police for my madam in Dubai, I will die . If i don't pay her the money we agree upon which is three million,five hundred Naira (N3.5m), I will die. All these we said, If i don't obey them, I will use my hand to kill myself.
"After swearing, I went outside and asked Chidiebere what I am going to Dubai to do and he replied that I am going there for prostitution, I was afraid and disappointed."
Confirming the events, Mr. Chidiebere Okoro in his (unedited) signed confessional statement said," I took the girl to the shrine after eating a meal when arrived at Okija where I lived. The shrine house is not far from my house as I took the girl (Helen) to the 'juju man' he said I should wait outside."
Mr. Okoro also confessed to have taken three (3) girls to Dubai for the same Mr Uwazurike.
Handing over the victim and the suspect to the National Agency for Prohibition of Trafficking in Persons (NAPTIP) on behalf of the Assistant Comptroller General, Mrs. Oluremi Talabi, Comptroller in Charge of Investigation and Compliance at the Zonal Headquarters Mike Dama said:
"We crave your indulgence to do due diligence because most times when we hand over traffic cases both the trafficker and the trafficked, NAPTIP office doesn't get back to the ACG and we don't think that is good enough because we need to cover up  our file, we need to put our records straight, that this case has been taken to court, prosecuted and judgement delivered. So please we would appeal to you to make sure due diligence is followed and get feedback from you and so on behalf of the ACG Zone A, I hand over the trafficker and the victim for further investigation.
NAPTIP Chief intelligence Officer, Ogorinu Ademuyiwa Johnson who responded said: "On behalf of the DG NAPTIP who is represented by the Zonal Commander, "I am assuring you that NAPTIP will leaver no stone unturned to ensure that justice is thoroughly, objectively and professionally done