THE era of overseas base maintenance on B727, B737 classic is now a thing of the past as major checks on these aircraft can be done here in Nigeria, according to the words of Onedot Aviation's Chief Executive Officer (CEO), Captain Henry Oludotun Ogunyemi.
According to Captain Ogunyemi, flying aircraft overseas for heavy maintenance like C-Checks on Boeing aircraft now has a far greater cost implication and the ripple effect causes major financial havoc for airlines advising airlines to use local MROs
He made this known while speaking to Nigerianflightdeck.com against the backdrop of the numerous maintenance issues that have become a major factor in the running of airlines in Nigeria.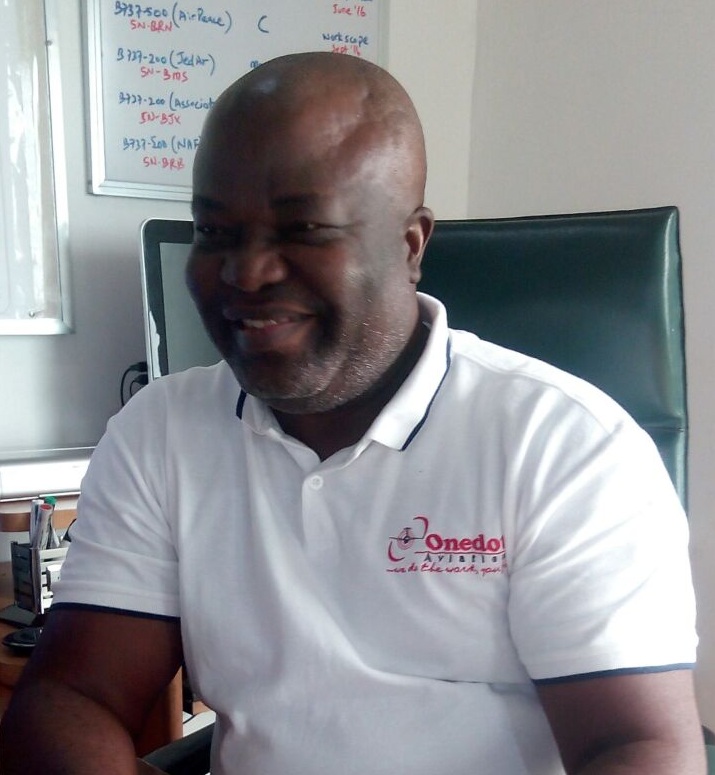 Onedot Aviation has been approved by the Nigerian Civil Aviation Authority (NCAA) to carry out maintenance checks both line and heavy maintenance, for Beech-Craft, HS-125, Bombardier among others since 2014 and Boeing 737-200 Series and Boeing 737-300/400/500 series  June 2016.
Captain Ogunyemi added that Onedot Aviation has already successfully carried out a B-Check on a Fly Air Stream's Boeing 737-200 cargo aircraft which is currently flying perfectly and encouraged other domestic airlines to follow suit as the services are top-notch with qualified engineers and state of the art tech.
Present situation in Nigeria has witnessed a lot of Nigerian airlines complaining about the foreign exchange rate to carry out major expenses, one of which is aircraft maintenance. He stated that Onedot can also reduce the frenzy for forex as it will charge the airlines in Naira.
The Onedot CEO who listed out some other benefits of carrying out heavy maintenance in MROs locally said it would save the airlines a lot of funds which can lead to business expansion for such airlines.
He said,"First, putting all the airlines' maintenance together, Nigeria will be saving $3bn annually if we patronize our own local MROs".
"There will be reduced stress on the dollar currency and this cuts across all the airlines. It is cheaper for the airlines to carry out their maintenance in the country. First and foremost, the ferry cost is saved as it takes time to ferry an aircraft to and from wherever it is done overseas. "
"Even the ground-time is saved as sometimes some aircraft stay six months and others stay a year so the airline will save in ground time. Saving money and ground time increases the profit of the airline. So all airlines are free to check our services out."
"With increase of profit, there can also be an increase in fleet which means increment of staff, pilots and cabin crew employing more Nigerians, creating more jobs. In fact, the ripple effect is so numerous and cannot be underscored."
"Assuming they are not expanding or recruiting, they will be able to pay their staff and not owe, eliminating unnecessary hardships."
He also said using local MROs can enable the MRO increase its capacity and train and employ more Nigerians as well.
"We have experienced Base engineers in Nigeria already that can take over from the expatriates who are already on ground with the initial know-how and technology. With the MRO there will be jobs for the teeming engineers that we have now. There will be job opportunities and there will be training and retraining of engineers to keep a base of sound technical hands who hitherto flew overseas."
Recall during the Aviation Round Table (ART) quarterly dinner, the Minister of State, Aviation, Senator Hadi Sirika stated that government does not have money to invest in an MRO but will support any local MRO that takes up the challenge.
Capt. Ogunyemi also gave props to the Minister, "Kudos to the Minister of State, Aviation, Hadi Sirika and the NCAA DG, Captain Usman Mukhar for making this local MRO happen, for taking the bull by the horn and ensuring that they go through with President Muhammadu Buhari's vision of encouraging local content especially in this era where there is a plan to actually patronize home-grown ideas, products and services to also strengthen the Naira against other currencies."